"They need to look at forming a board around diversity in all its forms to create a truly diverse board that is reflective of society, customers, and stakeholders. It is such an opportunity and we'd encourage them to look for candidates with as much diversity as possible."
David Evans, Managing Partner, Watermark Search International in the FS Sustainability article, "Calls for transformation, climate skill in AGL board renewal" - published on 2 June 2022.
​​​On the release of our eighth Board Diversity Index, we are thrilled to share several articles highlighting key findings from our report.
Written by Rachel Alembakis, published by FS Sustainability
In this article by FS Sustainability, David urges the board of AGL to use the board renewal as an opportunity to engage a diverse board as well as individuals with transformational experience. David also advises to look at overseas markets who are "further along the curve than us" in the transformation towards net zero.
​
Written by Sally Patten, published by Australian Financial Review
This article focuses on our finding that cultural diversity is stagnating as 90% of ASX 300 Board directors are from Anglo-Celtic backgrounds. This is the same as last year.
​
Written by Lauren Croft, published by Lawyers Weekly
​
Written by Kate Hilder and Siobhan Doherty, published by MinterEllison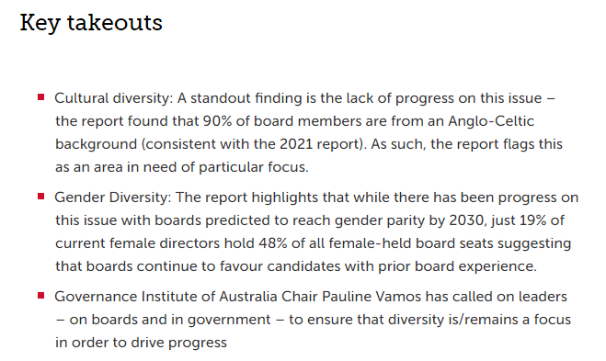 ​
Written by Amila Dedovic, published by Business News Australia
​