Watermark is delighted to have partnered with the AESC in their creation of their whitepaper "Interim Executives: Agents of change" using the latest findings from our most recent Interim Executive Annual Survey (available to download here) and expertise from our Partner, specialising in Interim Management, Caroline McAuliffe.
The whitepaper provides a clear overview of Interim management services offered by AESC members globally, and dives into unpacking the opportunities and challenges the future may present for interim, providing valuable guidance for those looking to get into business.
At Watermark Search Internationalwe believe deeply in the value of interim management, and the palpable difference it can make to an organisation.
"A report titled ˜The Interim Executive: Gaining a Competitive Business Edge through Interim Executive Management" from the Human Capital Institute, broadly identified several benefits of using interim executives, including: Access to experience, Rapid time to value, sustained value, access to new methods and techniques and risk mitigation."
​[source AESC Whitepaper: Interim Executives - Agents of Change]
Interim executive's excel by combining their previous experience from their permanent career and skills they have mastered over their portfolio projects during their second career as an interim executive. This experience allows interim executives to identify issues and provide positive outcomes quickly. An Interim executive can provide high levels of specialist executive experience, including senior management expertise to bring stability and guardianship during a period of change, absence or turnaround. Other circumstances as listed in the whitepaper are:
Leading digital transformation

Managing large scale change

Filling an immediate functional need

Leading complex systems improvement

Leading organizational culture assessment, design and change

Launching a substantial diversity and inclusion program

Preparing for initial public offering

Opening new market segments

Expanding geographically

Integrating a merger or acquisition

Solving a persistent organizational problem

Planning for succession
​​[source AESC Whitepaper: Interim Executives - Agents of Change]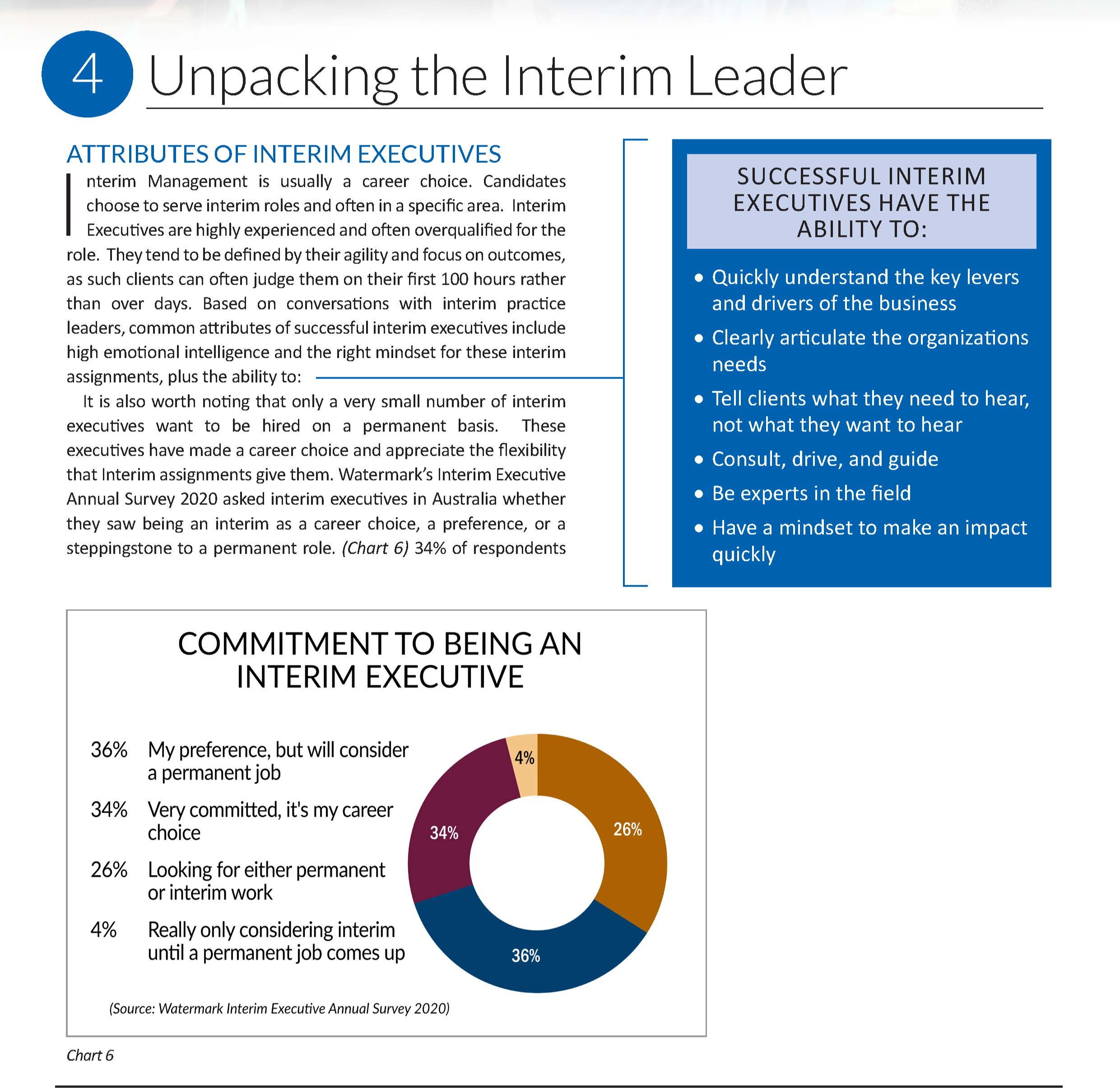 ​[source AESC Whitepaper: Interim Executives - Agents of Change]
​To delve deeper into the AESC's findings download the full reportfor further insights into the below:
A brief history of interim leadership

More insights on the valuable attributes of interim executives

How to assess interim executives

The wealth of knowledge a specialised and experience interim consultant can provide

What the average billing and fees are for an Interim and typical assignment length

What success looks like for interim providers and their clients

A global overview of interim leadership

and lots more.
​
​
Should you like to speak to one of our specialist interim partners please complete the form below or view our interim executive section here.
​
​