This article originally appeared in the AFR on 26th September 2017. Click here to access the full article (subscription required).
GE Australia's president Geoff Culbert will receive a $2.4 million "golden hello" for leaving the US conglomerate and joining Sydney Airport as its chief executive, starting before the end of January.
Mr Culbert's appointment comes nearly seven months after long-serving chief executive Kerrie Mather told investors she would leave the $16.5 billion company, which runs the country's busiest airport and is one of the most highly valued infrastructure stocks on the market.
Mr Culbert's annual base salary will be lower than Ms Mather's, which was $1.8 million in 2016, with another $1.8 million available in short-term annual bonus, and long-term incentives.
The company said Mr Culbert will receive $1.5 million in fixed annual pay, and be eligible for another $1.5 million in cash each year based on performance.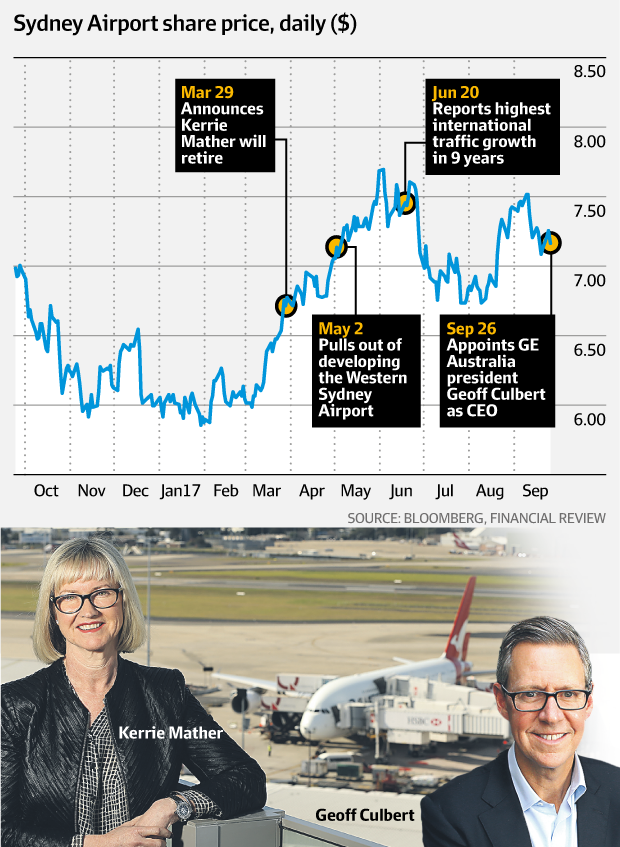 Of that short-term incentive, 80 per cent will be paid on the award date and 20 per cent will be paid two years later. The short-term incentive will be weighted between financial and non-financial hurdles, though the company did not provide any further detail.
Mr Culbert will also have long-term incentives, with a face value of $1.2 million subject to performance hurdles over three years.
He will also receive $1.25 million worth of Sydney Airport shares, which will vest on December 2018 and December 2019, and up to $1.1 million in cash for leaving his role at GE. Half of the $1.1 million will be paid on Mr Culbert's first month, and another after one year in the role.
GE is yet to announce a replacement chief executive.
Increasingly common
Watermark Search International's Graham Willis said long and short-term incentives now contribute to a larger portion of executive remuneration packages, which makes it increasingly common to see a new external recruit compensated for leaving those locked-up payments behind.
"It's very unusual to pay out all of it. But what tends to happen when you move to a new role is there will be a package of medium or long-term incentives. A lot of value in executive contracts is long-term or short-term incentives," he said.
Mr Culbert, a lawyer, joined GE in 2002, and was appointed president and chief executive of Australia, New Zealand and Papua New Guinea in May 2014.
"Geoff's deep international experience, including 10 years living and working in Asia, his broad-based skills and his commitment to customer and stakeholder relations make him ideally suited to lead Sydney Airport," chairman Trevor Gerber said in a release to the stock exchange.
Mr Gerber, who also sits on the boards of Tassal Group, Federation Centres, CIMIC Group and Regis Healthcare, was not available for comment, a company spokesman said, although he did speak to some of the group's major shareholders about the appointment.
An infrastructure investor, who declined to be named on the basis his fund does not own shares in Sydney Airport, said the biggest challenge Mr Culbert will face is ensuring the airport does not face any additional regulatory scrutiny, noting it enjoys a particularly light touch due to its strong relationships with the airlines.
Exceptionally well run
He added Sydney Airport, which trades on a forward price to earnings multiple of 43 times, is also exceptionally well run to maximise profits, citing the airport's recent incentive of encouraging passengers to buy duty free and gain entry into the express lane from doing so. He also noted capital expenditure is entirely debt funded.
Sydney Airport this week suffered an outage of its air traffic control systems resulting in passenger delays.
Another issue the new chief executive will navigate include losing its status as the city's only commercial airport when the government-backed second airport being built at Badgerys Creek opens around 2026. Optus chairman Paul O'Sullivan is heading the Western Sydney Airport Co, the company the state government has set up to build the $5.3 billion airport and construction groups have begun circling.
Sydney Airport is planning to shift its low value traffic to the second airport. International traffic generates the 70 per cent of its revenues but only use 15 per cent of landing slots.
In August, the group raised its full year dividend guidance on the back of a strong six months driven by a rise in international passengers, higher retail sales and returns on capital invested in aviation infrastructure. The company also highlighted the opportunity for more retail stores to be added and hotel expansions.
In a statement, Mr Culbert said: "If we continue to capture the increasing demand for travel, particularly from developing markets, the flow on benefits for the NSW and Australian economy will be huge."
Sydney Airport shares closed down 4 cents at $7.17.